I had finally reached a breaking point and couldn't take it any longer. It was time for a succulent beheading. My Graptopetalum paraguayense is my oldest plant going on about 3 years. When I first bout this little sprout I made a succulent arrangement with a few other varieties. I think I had a sedeveria, some sort of agave and some sempervivums. At the time, I had very little plant experience and didn't know that drought tolerant meant you still had to water.
Needless to say, everything else in the pot eventually parished, but my ghost plant persisted. With every fallen leaf, a new little propagated plant would sprout up creating a bowl of graptos. Eventually I cleaned out the pot and dedicated it to only the Graptopetalum paraguayense and learned how to care for it in a way that made the plant happy. Well, sort of.
Thing were getting out of hand, I had to prop up the large vines on the window sill, dried leaves were falling off all over the place and it was just a mess. With spring around the corner and prolonged sun on the way, it was time for some spring cleaning.
Succulent Beheading
The clean up is quite simple and pretty cathartic. In a few steps you will have a refreshed arrangement that is ready to grow and prosper.
Using a clean scissors or cutting tool, cut your grapto to the desired length.
Gently pop off any leaves you want to save for propagation and set aside.
Let your cuttings and leaves sit out for a day or so to allow the ends to callous over.
Using a chopstick or small tool for aeration, make a small hole in the dirt and place your cuttings down in your soil.
To propagate your leaves, place them in a dish of cactus mix. Give them a little spray of water and set in a bright spot. Shortly you will have roots ready to transplant back into your arrangement. You can also use calloused leaves to fill in any bald spots left in your arrangement.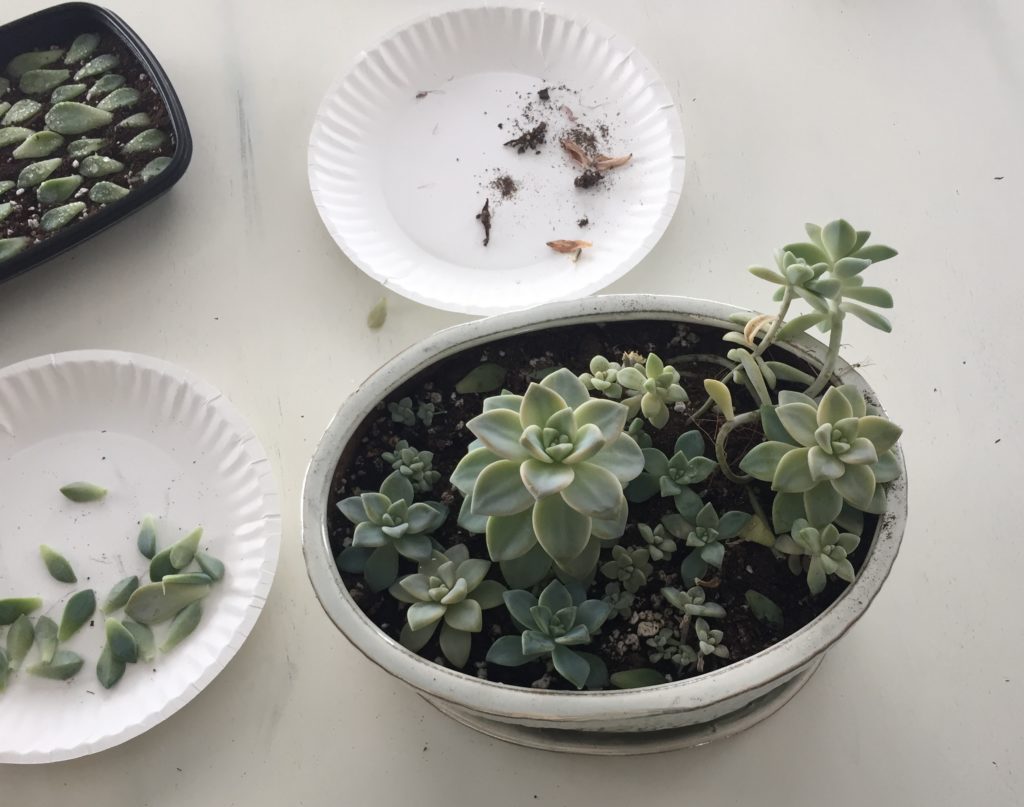 This succulent beheading felt so good. Call me crazy, but I find something so satisfying in removing dead leaves. My Graptopetalum arrangement is now refreshed and ready to roll. I am sure in another year it will become unruly once more, but by then I will have a plethora of grapto to work with.
For more houseplant and succulent info check out my channel at SuburbanSill on Youtube. Daily updates are available on Instagram. If you liked this post, you might also like to learn about some other plant rescue projects like this Dieffenbachia